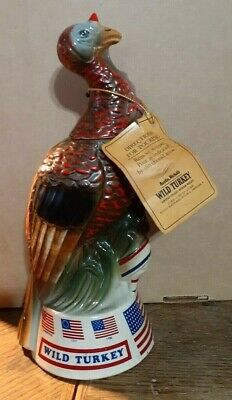 Ok. I see these decanters empty selling a price points ranging from $20 to $40. Just for the decanter.
Its an "1976 Austin Nichols Wild Turkey "The Spirit of 76" Decanter - Limited Edition"
The wife came home with 2 that she got from a co worker at work that were in her aunts attic when she died.
Difference being is these are still with the original boxes and one of them is unopened. Well actually both are. But the wife when taking one out of the box managed to break (tear) the seal and the cork stopper which connects the head and neck to the body snapped with half in the neck and the other half in the bottom portion of the decanter that contains the burbon. that one we gave to my son who is planning on drinking it the other I am keeping for myself. Trying to find what they are worth though.
The closest Ive been able to find on a price for one unopened is a different model in the series thats worth like $200